How to Plant Lavender Seeds at Home
Growing lavender from seed can be difficult, especially for new gardeners. But once you learn how to do it, you won't forget it again and you will have a great success. you will have better success! In this article, I will explain in detail how to make lavender seeds at home.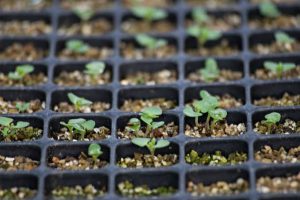 If you're starting to struggle with growing lavender from seed, you're not alone. This is everyone's big problem when it comes to growing vegetables and fruits from seed.
Planting lavender seeds requires some extra steps and a few that may seem counterintuitive. It's definitely tricky and takes some practice. But don't worry, I tried and learned instead of you and now I will pass on my experience to you.
How to Grow Lavender at Home with All Its Stages?
Growing lavender successfully from seed is very, very simple once you know the best practices.
The best method to use for growing lavender from seed is to start them indoors. They may take a long time to germinate and they tend to sprout irregularly. Therefore, starting the seeds at home will give you successful results.
Plants That Can Be Grown in Pots
Of course, you can try planting them directly. They are also great candidates for winter planting as they need occasional cold. So go ahead and try both to see which method works for you.
How Long Does It Take for Lavender to Transform from Seed to Sprout?
When you grow lavender from seed, it takes a year for them to reach their full potential. They may bloom slightly the first year, and you can get a few buds from them.
Later, they will bloom more in their second year, and you will enjoy the scent of the seeds and flowers.
Planting Lavender Seeds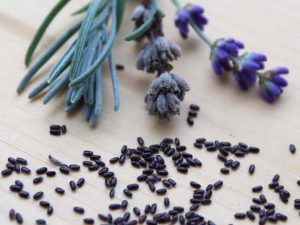 Successfully planting lavender seeds requires some special tricks. These cold-hardy seeds need a little more help to germinate. But not impossible.
Necessary materials:
seeds
seed starting soil
Step 1: Prepare the soil
Step 2: Decide how many seeds to plant – I recommend planting 2-3 lavender seeds per hole as they tend to germinate unevenly.
Step 3: Plant the seeds – I prefer to leave lavender seeds on top of the soil as they need light to germinate. But if you want, you can cover it with a thin layer of soil.
Step 4: Water the soil – Where did we forget the water of life, which we will forget here.
Step 5: Cover it – Since lavender is a tough plant, I recommend creating a planting kit first. So you can start the seeds here by putting the soil in a plastic coverable box.
Step 6: Give the seeds plenty of light –Place the seeds in a bright location. Remember, they need light to germinate, so give them plenty of sunlight.
Lavender Germination Time
As I have mentioned several times before, the germination of lavender seeds is extremely slow and uneven. Some are a little faster (2-3 weeks), but most can take a month or longer to germinate, so be patient. You'll probably notice that some will sprout faster than others.
What Do Lavender Seedlings Look Like?
The first two leaves that form immediately after germination are called "seed leaves". It is slightly oval in shape and has rounded ends. Anything that grows after that is called "true leaves" and they look exactly like tiny baby lavender leaves.

Planting Lavender Seedlings in the Garden
Before transplanting lavender seedlings into the garden, you should consider that the weather is good and that the plants may freeze. It would be better to wait 2-3 months to get better results.
Of course, lavender, like every process, is difficult in this process, and it would not be the right behavior to go and plant it in the garden. So what will you do? Of course, you will gradually get used to our plant. You can plant it completely after 2 weeks, let it stay in the garden with a flower pot every day.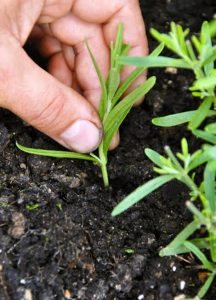 Contents similar to how to plant lavender seeds at home;
You have read my article on How to Plant Lavender Seeds at Home.
I wish you pleasant days.