My Feelings Step By Step
Tools
1. Puppet
2. Colored Adhesive Papers (Post-it)
3. Working Sheet-1
The practitioner should prepare a dummy to use during the activity. This puppet can be made from recycled materials such as socks, or ready-made toys can be used.
1. By showing the puppet in his hand to the students by the practitioner "Dear boys! Today I meet you with my best friend KUKI. I will introduce you." is called.
2. The puppet is made to talk by the KUKI practitioner as follows:
"Hello, my name is KUKI. Welcome all of you to our classroom and school. I am one of the most curious toys in this class. I'm very happy to meet you now. I want. But let's decorate this meeting with a game. We all first and then go to work by telling us how we feel about just starting school. lets start. Hmm, I hope you're not confused. If you want, let me start first. 'Hello, my name is KUKI and I am very excited to start school' Now it's your turn!"
3. All students must say their names as specified and start school. Ask them to express their feelings about it.
4. Accepting responses to all emotions in the process of expressing emotions is given.
5. The puppet continues to be spoken by the KUKI practitioner as follows is done.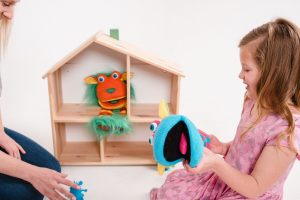 "Kids, you know, I was very happy to meet you at the beginning. I WAS EXCITED. Now I am very happy to have friends like you. Actually, on the way to school, I was a bit AFRAID as I was going to start a new school. I was also a little SAD for leaving home. What do I do at school alone? When I thought about what I was going to do, I felt ANxious. Then I come to school and take my class I was very surprised to see it. Because my classroom was full of beautiful toys. more Then I met my teacher. Thanks to my smiling teacher I felt SAFE and PEACEFUL."
6. Students have many different feelings about KUKI's starting school process. reminding that he feels; In this process, they feel similar or different emotions. Shares are taken about whether they feel or not.
7. The classroom board is divided into 4 equal parts by vertical lines. in Worksheet-1 The images are pasted on the board in order.
8. Each student is given 4 sticky papers of different colors. The following instruction is shared with students:
"Dear children, we talked about many feelings about starting school. of KUKI We learned about your feelings. Let's examine our own feelings step by step, shall we? What do you think? As you can see we have divided the board into 4 sections. You also have 4 adhesives. We handed out paper. Now I will ask you 4 questions and how do you feel about these questions? I want you to draw facial expressions of emotions on the paper in front of you."
9. The following questions are asked to the students in order, and to draw their feelings as facial expressions on sticky paper required.
• How did you feel before coming to school? Draw it on paper.
• How did you feel until you came home from school? Draw it on paper.
• How did you feel when you came to the class? Draw it on paper.
• How did you feel when you got to know your teacher and your friends? on paper
draw.

10. The emotional expressions that the students drew regarding all the questions were written on the board. are attached to the section. Meanwhile, at each stage, what emotions They are encouraged to express what they feel.
11. After the students' shares are received, an instruction similar to the one below is given. process is terminated.
"Starting a new school actually made each of us feel different emotions. is not it? Worrying, afraid, restless before starting school no matter how natural it is, we feel happier and more peaceful after we come to class. And it's just as natural for us to feel safe. All that matters is that we feel to share feelings. All the emotions you feel whenever you want with me You can share."
Thanks