The Formula for Positive Parenting
It is important for children to develop a positive personality because positive thoughts and behaviors help them be successful in life, build healthy relationships, and live an overall happy life. Also, a positive personality allows children to cope with and face stress in a positive way.
Among the formulas for positive parenting, the important ones can be:
Show love and affection
Celebrate their successes
Meet their emotional needs
Support their interests and passions
Boost their self-esteem
Develop their decision-making skills
Improve their social skills
Protect their physical and mental health
Meet their learning needs
Teach them responsibility
Teach them to accept and learn from mistakes
Support their dreams and goals
Spend time with and communicate with them
Accept their personal values and beliefs
Protect their freedom
Respect their free will
Allow them to express themselves
Accept their traits and personality
Support their social environment and family
Invest in their future.
Remember that each child is unique and the formulas that work best for your child may vary.
Formula for Raising Happy Children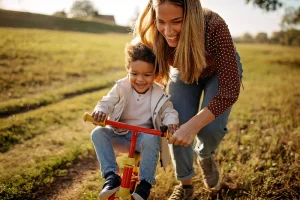 The formula for raising a happy child does not exist, but the following factors can help in raising happy children:
Love and affection: One of the most important needs of children is love. We should accept them and show them respect.
Communication: Active and honest communication can help meet children's emotional needs and strengthen their connection with us.
Exercise and outdoor activities: Physical activity and connection with nature can benefit children's physical and mental health and reduce stress.
Sleep and rest: Adequate sleep and rest enable children to function and concentrate properly.
Positive role models: Children learn and are expected to imitate what they see. Positive role models can encourage them to learn positive behaviors.
These factors may not be applicable for every child and children have different needs, but generally these factors support the raising of happy children.